"Jeg praktiserer Transcendental Meditasjon to ganger daglig. Hver morgen/til lunsj og på ettermiddagen i 20 minutter.... Jeg tror på kraften i intensjonen og tanken"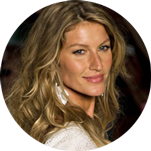 Gisele Bündchen
Når jeg er rolig, kreativ og sunn da er jeg glad
Milloner av mennesker har erfart hvordan TM forbedrer livene deres.
Når de sover bedre, har et klarere sinn og har mer energi,
er det naturlig at man er mer glad.
Nevrologer har funnet at når man praktiserer Transcendental Meditasjon så øker man serotonin nivået, den neurotransmitteren som påvirker følelsen av velvære og glede.
Endring i serotonin nivå under TM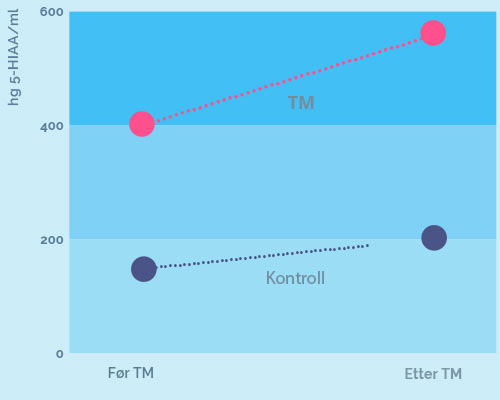 Referanse: Journal of Neural Transmission Vol 39, 1976, pp257-267
Forbedret psykologi gjennom TM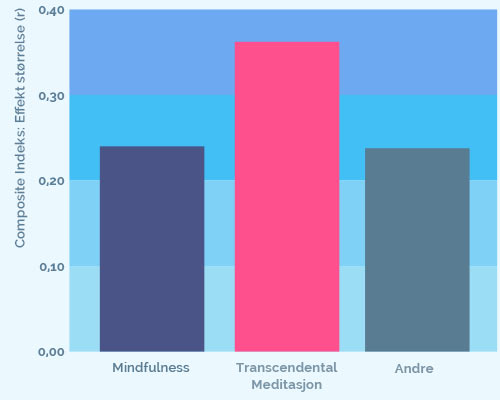 Selvrealisering: en meta-analyse.
Gi slipp på negativiteten
Metaanalyse av mindre angst, mindre negative følelser og nervøsitet når man sammenliknet TM med mindfullness og andre typer meditasjon.
---
Error
Error
Truncated class file
Error Type
java.lang.ClassFormatError
Stacktrace
java.lang.ClassLoader.defineClass1(Native Method)
java.lang.ClassLoader.defineClass(ClassLoader.java:808)
java.security.SecureClassLoader.defineClass(SecureClassLoader.java:142)
java.net.URLClassLoader.defineClass(URLClassLoader.java:443)
java.net.URLClassLoader.access$100(URLClassLoader.java:65)
java.net.URLClassLoader$1.run(URLClassLoader.java:355)
java.net.URLClassLoader$1.run(URLClassLoader.java:349)
java.security.AccessController.doPrivileged(Native Method)
java.net.URLClassLoader.findClass(URLClassLoader.java:348)
org.apache.jasper.servlet.JasperLoader.loadClass(JasperLoader.java:137)
org.apache.jasper.servlet.JasperLoader.loadClass(JasperLoader.java:67)
org.jboss.as.web.deployment.WebInjectionContainer.newInstance(WebInjectionContainer.java:98)
org.apache.jasper.servlet.JspServletWrapper.getServlet(JspServletWrapper.java:145)
org.apache.jasper.servlet.JspServletWrapper.service(JspServletWrapper.java:324)
org.apache.jasper.servlet.JspServlet.serviceJspFile(JspServlet.java:326)
org.apache.jasper.servlet.JspServlet.service(JspServlet.java:253)
javax.servlet.http.HttpServlet.service(HttpServlet.java:847)
org.apache.catalina.core.ApplicationFilterChain.internalDoFilter(ApplicationFilterChain.java:329)
org.apache.catalina.core.ApplicationFilterChain.doFilter(ApplicationFilterChain.java:248)
com.liferay.portal.kernel.servlet.filters.invoker.InvokerFilterChain.doFilter(InvokerFilterChain.java:72)
com.liferay.portal.kernel.servlet.filters.invoker.InvokerFilterChain.doFilter(InvokerFilterChain.java:116)
com.liferay.portal.kernel.servlet.filters.invoker.InvokerFilter.doFilter(InvokerFilter.java:73)
org.apache.catalina.core.ApplicationFilterChain.internalDoFilter(ApplicationFilterChain.java:280)
org.apache.catalina.core.ApplicationFilterChain.doFilter(ApplicationFilterChain.java:248)
org.apache.catalina.core.ApplicationDispatcher.invoke(ApplicationDispatcher.java:840)
org.apache.catalina.core.ApplicationDispatcher.doInclude(ApplicationDispatcher.java:720)
org.apache.catalina.core.ApplicationDispatcher.include(ApplicationDispatcher.java:657)
org.apache.portals.bridges.struts.PortletServletRequestDispatcher.invoke(PortletServletRequestDispatcher.java:128)
org.apache.portals.bridges.struts.PortletServletRequestDispatcher.forward(PortletServletRequestDispatcher.java:135)
org.apache.struts.action.RequestProcessor.doForward(RequestProcessor.java:1085)
org.apache.struts.action.RequestProcessor.processForwardConfig(RequestProcessor.java:398)
org.apache.struts.action.RequestProcessor.process(RequestProcessor.java:241)
org.apache.portals.bridges.struts.PortletRequestProcessor.process(PortletRequestProcessor.java:50)
org.apache.struts.action.ActionServlet.process(ActionServlet.java:1196)
org.apache.struts.action.ActionServlet.doGet(ActionServlet.java:414)
javax.servlet.http.HttpServlet.service(HttpServlet.java:734)
javax.servlet.http.HttpServlet.service(HttpServlet.java:847)
org.apache.catalina.core.ApplicationFilterChain.internalDoFilter(ApplicationFilterChain.java:329)
org.apache.catalina.core.ApplicationFilterChain.doFilter(ApplicationFilterChain.java:248)
com.liferay.portal.kernel.servlet.filters.invoker.InvokerFilterChain.doFilter(InvokerFilterChain.java:72)
com.liferay.portal.kernel.servlet.filters.invoker.InvokerFilter.doFilter(InvokerFilter.java:73)
org.apache.catalina.core.ApplicationFilterChain.internalDoFilter(ApplicationFilterChain.java:280)
org.apache.catalina.core.ApplicationFilterChain.doFilter(ApplicationFilterChain.java:248)
org.apache.catalina.core.ApplicationDispatcher.invoke(ApplicationDispatcher.java:840)
org.apache.catalina.core.ApplicationDispatcher.doInclude(ApplicationDispatcher.java:720)
org.apache.catalina.core.ApplicationDispatcher.include(ApplicationDispatcher.java:657)
com.liferay.portal.apache.bridges.struts.LiferayRequestDispatcher.invoke(LiferayRequestDispatcher.java:175)
com.liferay.portal.apache.bridges.struts.LiferayRequestDispatcher.include(LiferayRequestDispatcher.java:94)
org.apache.portals.bridges.struts.StrutsPortlet.processRequest(StrutsPortlet.java:375)
org.apache.portals.bridges.struts.StrutsPortlet.doView(StrutsPortlet.java:274)
javax.portlet.GenericPortlet.doDispatch(GenericPortlet.java:328)
javax.portlet.GenericPortlet.render(GenericPortlet.java:233)
com.liferay.portlet.FilterChainImpl.doFilter(FilterChainImpl.java:100)
com.liferay.portal.kernel.portlet.PortletFilterUtil.doFilter(PortletFilterUtil.java:64)
com.liferay.portal.kernel.servlet.PortletServlet.service(PortletServlet.java:111)
javax.servlet.http.HttpServlet.service(HttpServlet.java:847)
org.apache.catalina.core.ApplicationFilterChain.internalDoFilter(ApplicationFilterChain.java:329)
org.apache.catalina.core.ApplicationFilterChain.doFilter(ApplicationFilterChain.java:248)
com.liferay.portal.kernel.servlet.filters.invoker.InvokerFilterChain.doFilter(InvokerFilterChain.java:72)
com.liferay.portal.kernel.servlet.filters.invoker.InvokerFilter.doFilter(InvokerFilter.java:73)
org.apache.catalina.core.ApplicationFilterChain.internalDoFilter(ApplicationFilterChain.java:280)
org.apache.catalina.core.ApplicationFilterChain.doFilter(ApplicationFilterChain.java:248)
org.apache.catalina.core.ApplicationDispatcher.invoke(ApplicationDispatcher.java:840)
org.apache.catalina.core.ApplicationDispatcher.doInclude(ApplicationDispatcher.java:720)
org.apache.catalina.core.ApplicationDispatcher.include(ApplicationDispatcher.java:657)
com.liferay.portlet.InvokerPortletImpl.invoke(InvokerPortletImpl.java:534)
com.liferay.portlet.InvokerPortletImpl.invokeRender(InvokerPortletImpl.java:607)
com.liferay.portlet.InvokerPortletImpl.render(InvokerPortletImpl.java:359)
org.apache.jsp.html.portal.render_005fportlet_jsp._jspService(render_005fportlet_jsp.java:1177)
org.apache.jasper.runtime.HttpJspBase.service(HttpJspBase.java:70)
javax.servlet.http.HttpServlet.service(HttpServlet.java:847)
org.apache.jasper.servlet.JspServletWrapper.service(JspServletWrapper.java:369)
org.apache.jasper.servlet.JspServlet.serviceJspFile(JspServlet.java:326)
org.apache.jasper.servlet.JspServlet.service(JspServlet.java:253)
javax.servlet.http.HttpServlet.service(HttpServlet.java:847)
org.apache.catalina.core.ApplicationFilterChain.internalDoFilter(ApplicationFilterChain.java:329)
org.apache.catalina.core.ApplicationFilterChain.doFilter(ApplicationFilterChain.java:248)
com.liferay.portal.kernel.servlet.filters.invoker.InvokerFilterChain.doFilter(InvokerFilterChain.java:72)
com.liferay.portal.kernel.servlet.filters.invoker.InvokerFilterChain.doFilter(InvokerFilterChain.java:116)
com.liferay.portal.kernel.servlet.filters.invoker.InvokerFilter.doFilter(InvokerFilter.java:73)
org.apache.catalina.core.ApplicationFilterChain.internalDoFilter(ApplicationFilterChain.java:280)
org.apache.catalina.core.ApplicationFilterChain.doFilter(ApplicationFilterChain.java:248)
org.apache.catalina.core.ApplicationDispatcher.invoke(ApplicationDispatcher.java:840)
org.apache.catalina.core.ApplicationDispatcher.doInclude(ApplicationDispatcher.java:720)
org.apache.catalina.core.ApplicationDispatcher.include(ApplicationDispatcher.java:657)
com.liferay.portal.servlet.DirectServletPathRegisterDispatcher.include(DirectServletPathRegisterDispatcher.java:53)
com.liferay.portal.servlet.PACLRequestDispatcherWrapper.doDispatch(PACLRequestDispatcherWrapper.java:90)
com.liferay.portal.servlet.PACLRequestDispatcherWrapper.include(PACLRequestDispatcherWrapper.java:54)
com.liferay.portal.util.PortalImpl.renderPortlet(PortalImpl.java:5162)
com.liferay.portal.util.PortalUtil.renderPortlet(PortalUtil.java:1569)
com.liferay.portlet.layoutconfiguration.util.RuntimePortletImpl.processPortlet(RuntimePortletImpl.java:165)
com.liferay.portlet.layoutconfiguration.util.RuntimePortletImpl.processPortlet(RuntimePortletImpl.java:97)
com.liferay.portlet.layoutconfiguration.util.RuntimePortletImpl.doProcessTemplate(RuntimePortletImpl.java:531)
com.liferay.portlet.layoutconfiguration.util.RuntimePortletImpl.doDispatch(RuntimePortletImpl.java:394)
com.liferay.portlet.layoutconfiguration.util.RuntimePortletImpl.processTemplate(RuntimePortletImpl.java:228)
com.liferay.portlet.layoutconfiguration.util.RuntimePortletImpl.processTemplate(RuntimePortletImpl.java:216)
com.liferay.portlet.layoutconfiguration.util.RuntimePortletUtil.processTemplate(RuntimePortletUtil.java:113)
org.apache.jsp.html.portal.layout.view.portlet_jsp._jspService(portlet_jsp.java:477)
org.apache.jasper.runtime.HttpJspBase.service(HttpJspBase.java:70)
javax.servlet.http.HttpServlet.service(HttpServlet.java:847)
org.apache.jasper.servlet.JspServletWrapper.service(JspServletWrapper.java:369)
org.apache.jasper.servlet.JspServlet.serviceJspFile(JspServlet.java:326)
org.apache.jasper.servlet.JspServlet.service(JspServlet.java:253)
javax.servlet.http.HttpServlet.service(HttpServlet.java:847)
org.apache.catalina.core.ApplicationFilterChain.internalDoFilter(ApplicationFilterChain.java:329)
org.apache.catalina.core.ApplicationFilterChain.doFilter(ApplicationFilterChain.java:248)
com.liferay.portal.kernel.servlet.filters.invoker.InvokerFilterChain.doFilter(InvokerFilterChain.java:72)
com.liferay.portal.kernel.servlet.filters.invoker.InvokerFilterChain.doFilter(InvokerFilterChain.java:116)
com.liferay.portal.kernel.servlet.filters.invoker.InvokerFilter.doFilter(InvokerFilter.java:73)
org.apache.catalina.core.ApplicationFilterChain.internalDoFilter(ApplicationFilterChain.java:280)
org.apache.catalina.core.ApplicationFilterChain.doFilter(ApplicationFilterChain.java:248)
org.apache.catalina.core.ApplicationDispatcher.invoke(ApplicationDispatcher.java:840)
org.apache.catalina.core.ApplicationDispatcher.doInclude(ApplicationDispatcher.java:720)
org.apache.catalina.core.ApplicationDispatcher.include(ApplicationDispatcher.java:657)
com.liferay.portal.action.LayoutAction.includeLayoutContent(LayoutAction.java:468)
com.liferay.portal.action.LayoutAction.processLayout(LayoutAction.java:735)
com.liferay.portal.action.LayoutAction.execute(LayoutAction.java:249)
org.apache.struts.action.RequestProcessor.processActionPerform(RequestProcessor.java:431)
org.apache.struts.action.RequestProcessor.process(RequestProcessor.java:236)
com.liferay.portal.struts.PortalRequestProcessor.process(PortalRequestProcessor.java:176)
org.apache.struts.action.ActionServlet.process(ActionServlet.java:1196)
org.apache.struts.action.ActionServlet.doGet(ActionServlet.java:414)
javax.servlet.http.HttpServlet.service(HttpServlet.java:734)
com.liferay.portal.servlet.MainServlet.callParentService(MainServlet.java:560)
com.liferay.portal.servlet.MainServlet.service(MainServlet.java:537)
javax.servlet.http.HttpServlet.service(HttpServlet.java:847)
org.apache.catalina.core.ApplicationFilterChain.internalDoFilter(ApplicationFilterChain.java:329)
org.apache.catalina.core.ApplicationFilterChain.doFilter(ApplicationFilterChain.java:248)
com.liferay.portal.kernel.servlet.filters.invoker.InvokerFilterChain.doFilter(InvokerFilterChain.java:72)
com.liferay.portal.kernel.servlet.filters.invoker.InvokerFilterChain.doFilter(InvokerFilterChain.java:116)
com.liferay.portal.kernel.servlet.filters.invoker.InvokerFilterChain.doFilter(InvokerFilterChain.java:116)
com.liferay.portal.kernel.servlet.filters.invoker.InvokerFilterChain.doFilter(InvokerFilterChain.java:116)
com.liferay.portal.kernel.servlet.filters.invoker.InvokerFilterChain.doFilter(InvokerFilterChain.java:116)
com.liferay.portal.kernel.servlet.filters.invoker.InvokerFilterChain.doFilter(InvokerFilterChain.java:116)
com.liferay.portal.kernel.servlet.BaseFilter.processFilter(BaseFilter.java:163)
com.liferay.portal.servlet.filters.secure.SecureFilter.processFilter(SecureFilter.java:294)
com.liferay.portal.kernel.servlet.BaseFilter.doFilter(BaseFilter.java:57)
com.liferay.portal.kernel.servlet.filters.invoker.InvokerFilterChain.processDoFilter(InvokerFilterChain.java:206)
com.liferay.portal.kernel.servlet.filters.invoker.InvokerFilterChain.doFilter(InvokerFilterChain.java:108)
com.liferay.portal.kernel.servlet.filters.invoker.InvokerFilter.doFilter(InvokerFilter.java:73)
org.apache.catalina.core.ApplicationFilterChain.internalDoFilter(ApplicationFilterChain.java:280)
org.apache.catalina.core.ApplicationFilterChain.doFilter(ApplicationFilterChain.java:248)
org.apache.catalina.core.ApplicationDispatcher.invoke(ApplicationDispatcher.java:840)
org.apache.catalina.core.ApplicationDispatcher.processRequest(ApplicationDispatcher.java:622)
org.apache.catalina.core.ApplicationDispatcher.doForward(ApplicationDispatcher.java:560)
org.apache.catalina.core.ApplicationDispatcher.forward(ApplicationDispatcher.java:488)
com.liferay.portal.servlet.FriendlyURLServlet.service(FriendlyURLServlet.java:138)
javax.servlet.http.HttpServlet.service(HttpServlet.java:847)
org.apache.catalina.core.ApplicationFilterChain.internalDoFilter(ApplicationFilterChain.java:329)
org.apache.catalina.core.ApplicationFilterChain.doFilter(ApplicationFilterChain.java:248)
com.liferay.portal.kernel.servlet.filters.invoker.InvokerFilterChain.doFilter(InvokerFilterChain.java:72)
com.liferay.portal.kernel.servlet.filters.invoker.InvokerFilterChain.doFilter(InvokerFilterChain.java:116)
com.liferay.portal.kernel.servlet.filters.invoker.InvokerFilterChain.doFilter(InvokerFilterChain.java:116)
com.liferay.portal.kernel.servlet.BaseFilter.processFilter(BaseFilter.java:163)
com.liferay.portal.servlet.filters.strip.StripFilter.processFilter(StripFilter.java:335)
com.liferay.portal.kernel.servlet.BaseFilter.doFilter(BaseFilter.java:57)
com.liferay.portal.kernel.servlet.filters.invoker.InvokerFilterChain.processDoFilter(InvokerFilterChain.java:206)
com.liferay.portal.kernel.servlet.filters.invoker.InvokerFilterChain.doFilter(InvokerFilterChain.java:108)
com.liferay.portal.kernel.servlet.filters.invoker.InvokerFilterChain.doFilter(InvokerFilterChain.java:116)
com.liferay.portal.kernel.servlet.BaseFilter.processFilter(BaseFilter.java:163)
com.liferay.portal.servlet.filters.gzip.GZipFilter.processFilter(GZipFilter.java:123)
com.liferay.portal.kernel.servlet.BaseFilter.doFilter(BaseFilter.java:57)
com.liferay.portal.kernel.servlet.filters.invoker.InvokerFilterChain.processDoFilter(InvokerFilterChain.java:206)
com.liferay.portal.kernel.servlet.filters.invoker.InvokerFilterChain.doFilter(InvokerFilterChain.java:108)
com.liferay.portal.kernel.servlet.BaseFilter.processFilter(BaseFilter.java:163)
com.liferay.portal.servlet.filters.secure.SecureFilter.processFilter(SecureFilter.java:294)
com.liferay.portal.kernel.servlet.BaseFilter.doFilter(BaseFilter.java:57)
com.liferay.portal.kernel.servlet.filters.invoker.InvokerFilterChain.processDoFilter(InvokerFilterChain.java:206)
com.liferay.portal.kernel.servlet.filters.invoker.InvokerFilterChain.doFilter(InvokerFilterChain.java:108)
com.liferay.portal.kernel.servlet.BaseFilter.processFilter(BaseFilter.java:163)
com.liferay.portal.servlet.filters.i18n.I18nFilter.processFilter(I18nFilter.java:241)
com.liferay.portal.kernel.servlet.BaseFilter.doFilter(BaseFilter.java:57)
com.liferay.portal.kernel.servlet.filters.invoker.InvokerFilterChain.processDoFilter(InvokerFilterChain.java:206)
com.liferay.portal.kernel.servlet.filters.invoker.InvokerFilterChain.doFilter(InvokerFilterChain.java:108)
com.liferay.portal.kernel.servlet.filters.invoker.InvokerFilterChain.doFilter(InvokerFilterChain.java:116)
com.liferay.portal.kernel.servlet.BaseFilter.processFilter(BaseFilter.java:163)
com.liferay.portal.servlet.filters.cache.CacheFilter.processFilter(CacheFilter.java:432)
com.liferay.portal.kernel.servlet.BaseFilter.doFilter(BaseFilter.java:57)
com.liferay.portal.kernel.servlet.filters.invoker.InvokerFilterChain.processDoFilter(InvokerFilterChain.java:206)
com.liferay.portal.kernel.servlet.filters.invoker.InvokerFilterChain.doFilter(InvokerFilterChain.java:108)
com.liferay.portal.kernel.servlet.BaseFilter.processFilter(BaseFilter.java:163)
com.liferay.portal.servlet.filters.etag.ETagFilter.processFilter(ETagFilter.java:56)
com.liferay.portal.kernel.servlet.BaseFilter.doFilter(BaseFilter.java:57)
com.liferay.portal.kernel.servlet.filters.invoker.InvokerFilterChain.processDoFilter(InvokerFilterChain.java:206)
com.liferay.portal.kernel.servlet.filters.invoker.InvokerFilterChain.doFilter(InvokerFilterChain.java:108)
com.liferay.portal.kernel.servlet.BaseFilter.processFilter(BaseFilter.java:163)
com.liferay.portal.servlet.filters.autologin.AutoLoginFilter.processFilter(AutoLoginFilter.java:246)
com.liferay.portal.kernel.servlet.BaseFilter.doFilter(BaseFilter.java:57)
com.liferay.portal.kernel.servlet.filters.invoker.InvokerFilterChain.processDoFilter(InvokerFilterChain.java:206)
com.liferay.portal.kernel.servlet.filters.invoker.InvokerFilterChain.doFilter(InvokerFilterChain.java:108)
com.liferay.portal.kernel.servlet.filters.invoker.InvokerFilter.doFilter(InvokerFilter.java:73)
org.apache.catalina.core.ApplicationFilterChain.internalDoFilter(ApplicationFilterChain.java:280)
org.apache.catalina.core.ApplicationFilterChain.doFilter(ApplicationFilterChain.java:248)
org.apache.catalina.core.ApplicationDispatcher.invoke(ApplicationDispatcher.java:840)
org.apache.catalina.core.ApplicationDispatcher.processRequest(ApplicationDispatcher.java:622)
org.apache.catalina.core.ApplicationDispatcher.doForward(ApplicationDispatcher.java:560)
org.apache.catalina.core.ApplicationDispatcher.forward(ApplicationDispatcher.java:488)
com.liferay.portal.servlet.filters.virtualhost.VirtualHostFilter.processFilter(VirtualHostFilter.java:306)
com.liferay.portal.kernel.servlet.BaseFilter.doFilter(BaseFilter.java:57)
com.liferay.portal.kernel.servlet.filters.invoker.InvokerFilterChain.processDoFilter(InvokerFilterChain.java:206)
com.liferay.portal.kernel.servlet.filters.invoker.InvokerFilterChain.doFilter(InvokerFilterChain.java:108)
com.liferay.portal.kernel.servlet.filters.invoker.InvokerFilterChain.processDirectCallFilter(InvokerFilterChain.java:187)
com.liferay.portal.kernel.servlet.filters.invoker.InvokerFilterChain.doFilter(InvokerFilterChain.java:95)
com.liferay.portal.kernel.servlet.filters.invoker.InvokerFilterChain.doFilter(InvokerFilterChain.java:116)
com.liferay.portal.kernel.servlet.filters.invoker.InvokerFilterChain.doFilter(InvokerFilterChain.java:116)
com.liferay.portal.kernel.servlet.filters.invoker.InvokerFilterChain.doFilter(InvokerFilterChain.java:116)
com.liferay.portal.kernel.servlet.filters.invoker.InvokerFilterChain.doFilter(InvokerFilterChain.java:116)
org.tuckey.web.filters.urlrewrite.UrlRewriteFilter.doFilter(UrlRewriteFilter.java:738)
com.liferay.portal.kernel.servlet.filters.invoker.InvokerFilterChain.processDoFilter(InvokerFilterChain.java:206)
com.liferay.portal.kernel.servlet.filters.invoker.InvokerFilterChain.doFilter(InvokerFilterChain.java:108)
com.liferay.portal.kernel.servlet.filters.invoker.InvokerFilterChain.processDirectCallFilter(InvokerFilterChain.java:167)
com.liferay.portal.kernel.servlet.filters.invoker.InvokerFilterChain.doFilter(InvokerFilterChain.java:95)
com.liferay.portal.kernel.servlet.filters.invoker.InvokerFilterChain.doFilter(InvokerFilterChain.java:116)
com.liferay.portal.kernel.servlet.filters.invoker.InvokerFilterChain.processDirectCallFilter(InvokerFilterChain.java:167)
com.liferay.portal.kernel.servlet.filters.invoker.InvokerFilterChain.doFilter(InvokerFilterChain.java:95)
com.liferay.portal.kernel.servlet.filters.invoker.InvokerFilterChain.doFilter(InvokerFilterChain.java:116)
com.liferay.portal.kernel.servlet.filters.invoker.InvokerFilterChain.processDirectCallFilter(InvokerFilterChain.java:187)
com.liferay.portal.kernel.servlet.filters.invoker.InvokerFilterChain.doFilter(InvokerFilterChain.java:95)
com.liferay.portal.kernel.servlet.filters.invoker.InvokerFilter.doFilter(InvokerFilter.java:73)
org.apache.catalina.core.ApplicationFilterChain.internalDoFilter(ApplicationFilterChain.java:280)
org.apache.catalina.core.ApplicationFilterChain.doFilter(ApplicationFilterChain.java:248)
org.apache.catalina.core.StandardWrapperValve.invoke(StandardWrapperValve.java:275)
org.apache.catalina.core.StandardContextValve.invoke(StandardContextValve.java:161)
org.apache.catalina.authenticator.AuthenticatorBase.invoke(AuthenticatorBase.java:397)
org.jboss.as.jpa.interceptor.WebNonTxEmCloserValve.invoke(WebNonTxEmCloserValve.java:50)
org.jboss.as.web.security.SecurityContextAssociationValve.invoke(SecurityContextAssociationValve.java:169)
org.apache.catalina.core.StandardHostValve.invoke(StandardHostValve.java:155)
org.apache.catalina.valves.ErrorReportValve.invoke(ErrorReportValve.java:102)
org.apache.catalina.core.StandardEngineValve.invoke(StandardEngineValve.java:109)
org.apache.catalina.connector.CoyoteAdapter.service(CoyoteAdapter.java:372)
org.apache.coyote.http11.Http11Processor.process(Http11Processor.java:877)
org.apache.coyote.http11.Http11Protocol$Http11ConnectionHandler.process(Http11Protocol.java:679)
org.apache.tomcat.util.net.JIoEndpoint$Worker.run(JIoEndpoint.java:931)
java.lang.Thread.run(Thread.java:748)